How it Works
Select Your Package
Our plans offer everything you need for your restaurant website, from the menu and booking form to hosting, email and more!
Submit Content
With access to our online portal, you can submit your booking schedule, menu, logo, images and page content.
Ready in 72 Hours
We build and set up the site based on your chosen package and provided content. And your site will be online within 72 hours!
Everything you need to offer the full experience for your guests.
Put your best foot forward with an online reservation form, menu and custom homepage. With options for a food ordering system, SMS notifications, mobile app integration, custom pages and much more, you will have a complete restaurant website.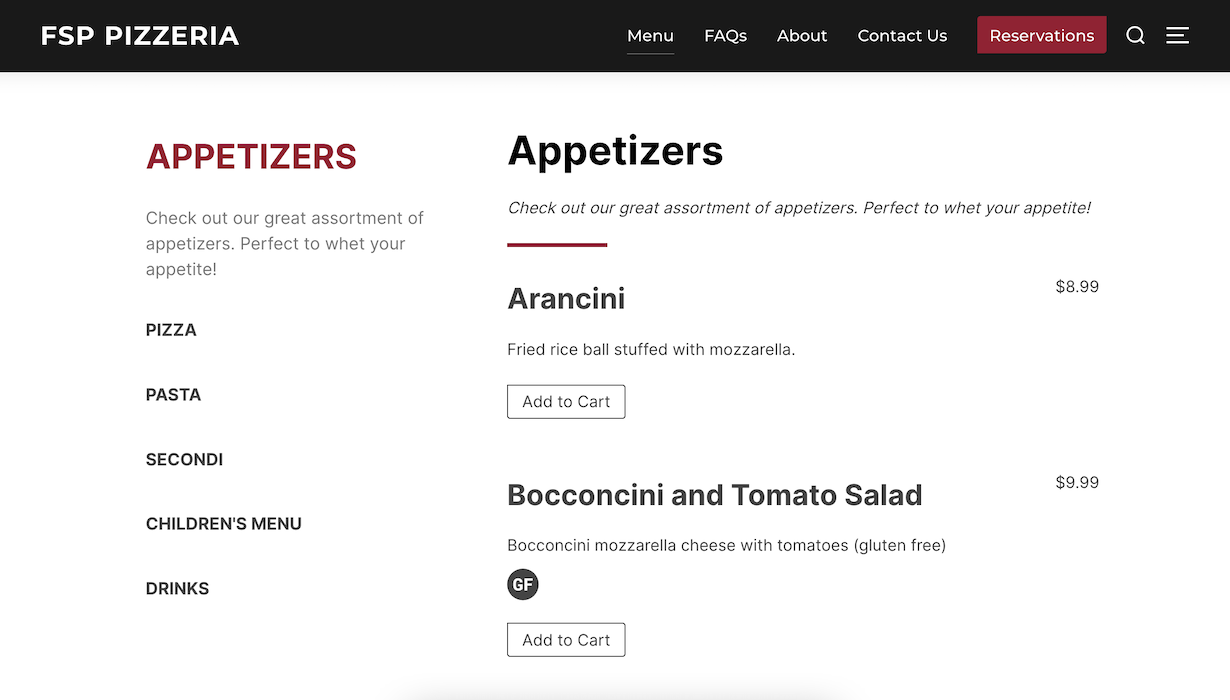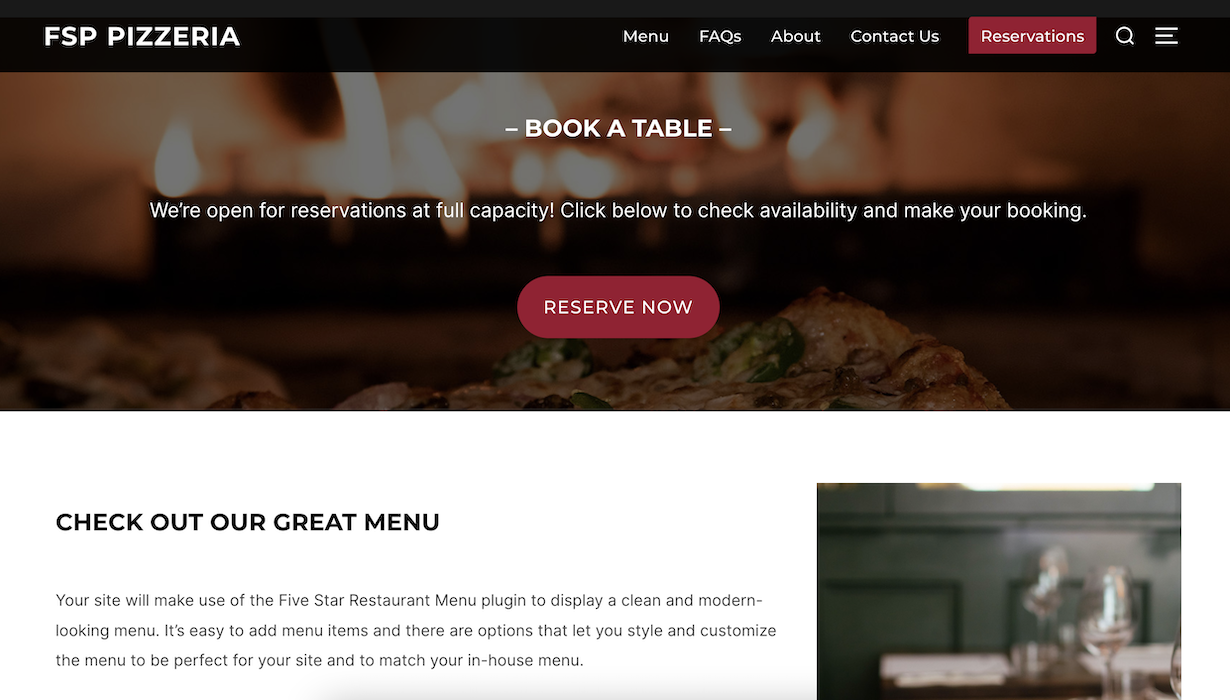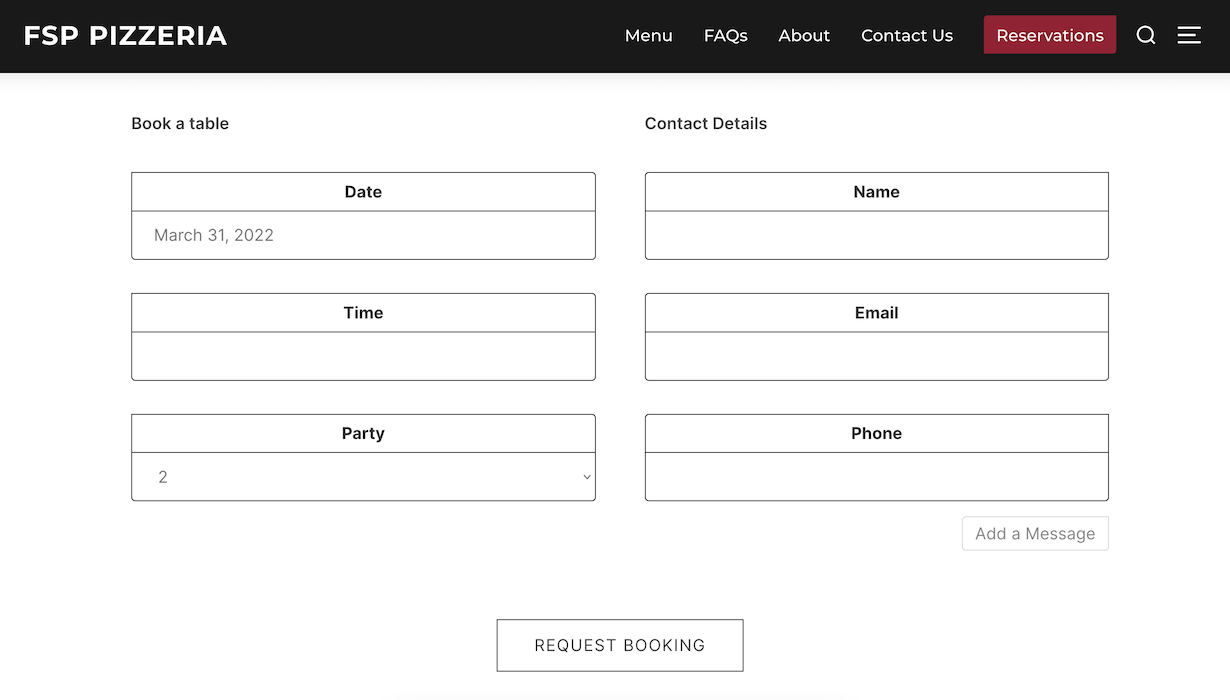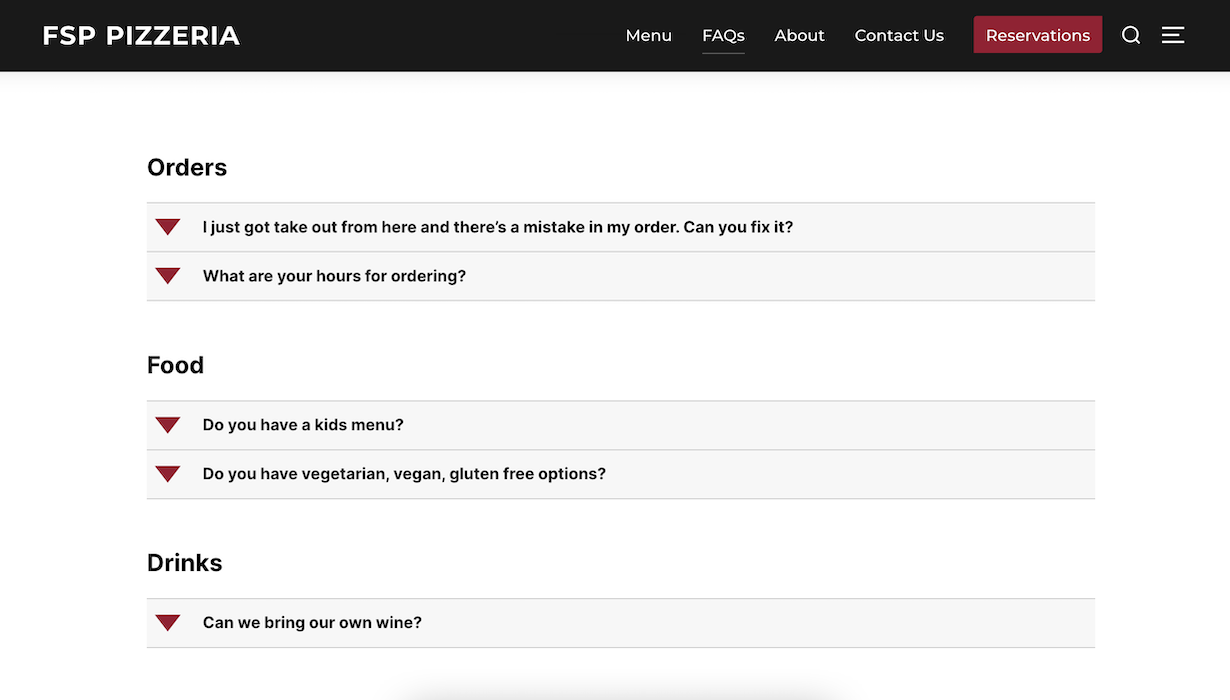 We build. You manage. We support.
What makes the Five Star Restaurant Website system different is that we actually build the site for you. You do not need to figure out how to use any software or put together your site. We give you a ready-to-go site, which you can then easily manage yourself, with our great support of course.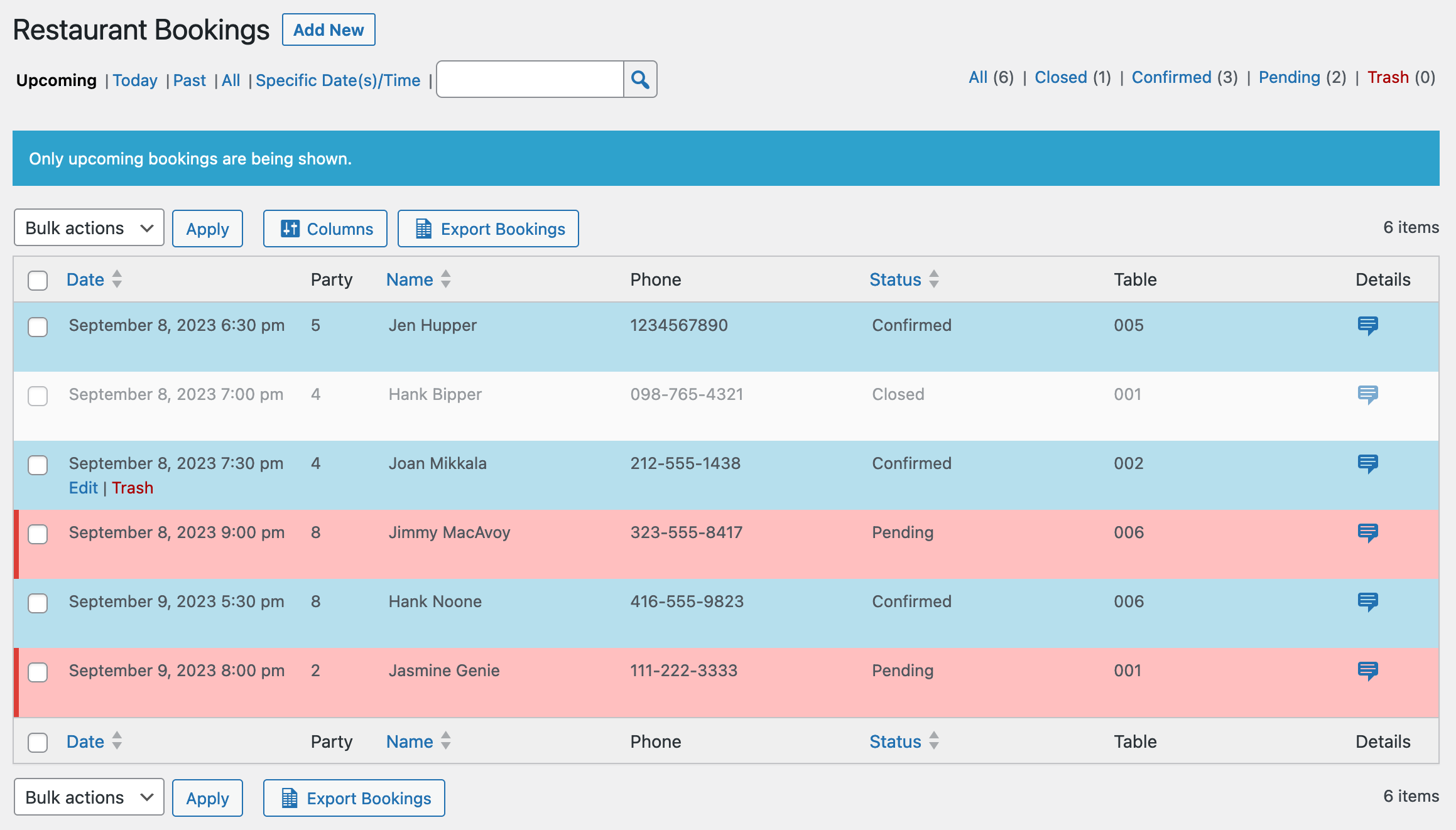 Reservations
made easy.
Accept reservations directly on your site
Commission free
Manage bookings in the site admin
Available mobile app for booking management
Options for table assignment
Options for SMS notifications
Options for taking deposits
Much more!
What makes your restaurant website great
Online Reservations
Let customers reserve a table directly on your site. Cut out the middle man and the commission fees. Bookings can managed with ease via your site or the companion mobile app.
Restaurant Menu
Display your menu(s) right on your website in one of several availble modern layouts. And modifying your menu is a breeze via drag-and-drop.
Custom Tailored
With features and templates that cover all requirements for a restaurant, and the ability to customize your package, your website will be built exactly to your needs.
WordPress
Your site is built using WordPress, which powers more sites than any other platform. This means you'll be able to easily edit it and upgrade or change it in the future without issue.
Recent Sites
Below you'll find a few of our most-recently-completed sites, so you can get an idea of the look and feel as well as the variety and reach of our packages.
Select a Package
Select one of the packages below to get started. All of our plans include the elements necessary to build a great restaurant website, with each level adding extra elements to enhance the experience.
Lite
$47/month
Turnkey WordPress website
Hosting and domain
Choice of theme/template
Choice of homepage
Online restaurant menu
Contact and About Us pages
1 email address
Our great email support
Pro
$67/month
Everything in Lite, plus:
Online booking form
Custom homepage
Social integration
Customized structured data
FAQ page
1 custom page
3 email addresses
Our great email support
Recommended Option
Ultimate
$97/month
Everything in Pro, plus:
Online food ordering
SMS notifications for reservations and orders
Mobile app for managing bookings and orders
Table selection for bookings
Payments/deposits for bookings
Multiple location support
3 custom pages
10 email addresses
Priority email support
Enterprise
$197/month
Everything in Ultimate, plus:
Customized theme/template
VPS hosting
Live chat support
5 custom pages
Unlimited email addresses
Integrate live chat on your site
* View FAQs below for cancellation/refund info.
Click the button below and let us know exactly what you need. With this info, we can help you pick the right plan that includes all the elements you need for your site.
Not sure?
Help us help you!
Feature Comparison
Below you'll find a full breakdown of all the available features and which plans they are included in. Use this to quickly determine which plan makes the most sense for you.
Feature
Lite
Pro
Ultimate
Enterprise
Turnkey WordPress website
Choice of homepage layout
Customizable online restaurant menu
1 email address at your domain
Reservation page with booking form
Customized structured data for whole site
3 email address at your domain
Commission-free built-in food ordering platform
SMS notifications for bookings and food orders
Table selection for bookings
Accept payment/deposits for bookings
Multiple locations for bookings
Access to the companion Five Star Restaurant Manager mobile app for food orders and bookings
10 email addresses at your domain
Customized theme/template based on your existing branding and input
Live chat support (Monday to Friday, 9am to 5pm EST)
Unlimited email addresses at your domain
Live chat integration on your site
Frequently Asked Questions
Below are some of the most-asked questions we get about the restaruant website service. These FAQs include extra info about hosting, updating your site, the booking and menu features, and more.
Your website will be hosted by Dreamhost, a large, reliable hosting company who have a 100% uptime guarantee. They host more than 1.5 million websites, offer unlimited bandwidth and data storage, have 24/7/365 customer support and have been in business for more than 25 years.
WordPress is the most popular way to build a website, with around 40% of ALL websites using it (estimated at around 28 million websites). WordPress is an open-source content management system, which can be used or modified by anyone, built to allow those who aren't developers to update their own websites. There are tonnes of free resources on how to update your site using WordPress, along with more than 50 thousand extensions to help add any features you may need later.
We aim to get all sites online with 3 business days of receiving the required materials, so it depends on how quickly you can get those together. You'll see a list of required materials, such as your restaurant menu, reservation preferences, etc., on the checkout page, and will also receive an email with the list. If you've got any questions, you can send us an email to find out more about filling out the required materials.
Your website is built using WordPress, an open-source content management with tonnes of websites providing walk-throughs for beginners on how to make updates. We've also got an extensive tutorial video library from YouTube that is searchable via the customer portal on our site.

Finally, if you don't feel comfortable making changes to your site on your own, we have reasonable updating hourly rates that you can contact us about.
Your orders will be managed using our 'Five-Star Restaurant Menu' plugin, used on more than 10 thousand restaurant websites and the most popular restaurant menu plugin for WordPress.
Yes, with the Ultimate and Enterprise plans you have access to our Five Star Restaurant Manager app, which is available for both Android and iOS. The app lets you view, edit and cancel reservations and orders directly from your phone or other device. It can be used on multiple devices, and you can set the privileges for individual devices so that certain individuals are only able to view but not edit or cancel reservations and orders.
You can cancel your plan/subscription at any point. To do so, please contact us at the support email address you received.
The cancellation will come into effect at the end of your current monthly billing cycle.
Pertaining to the status of your site once you cancel, the following conditions will apply:
If you've had your site for less than six months, it will be taken offline and deleted.
If you've had your site for between six months and one year, we will will take it offline and hold it for one year, in the event that you decide to come back.
If you've had your site for longer than a year and you wish to keep the site live, we will assist you in transferring it to the server/host/domain of your choice.
Refunds for the initial monthly payment can be issued at any point before the site is delivered, minus any expenses already incurred towards getting your site online. Generally, before you send in the required materials, your refund would be more than 95% of the checkout price.