How have restaurant guests adapted to the new dine-out experience?
Since social distancing regulations to slow down the spread of COVID-19 have been loosened around the world, many restaurants have re-opened their doors to welcome back their guests. However, as people are still concerned about their own health and safety when being out in public spaces, their dining out habits have also changed to conform with the new normal. How have restaurant guests adapted to the new dine-out experience, and what does this mean for the future of the restaurant industry worldwide in the post-pandemic age?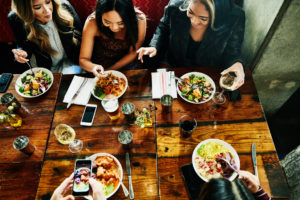 COVID-19 impacted different age group's opinions on dining-out differently: The COVID-19 pandemic has different impacts on different generations' opinions on choosing to eat in or dine out. According to research conducted by the team at Revenue Management Solutions, Gen Z (between 5 and 25 years old) are the groups that are most eager to eat out as soon as they could (1). As Gen Zers are also the most active age group when it comes to socializing, they believe that the pandemic will not change their dining out habits drastically. 56% of Gen Z said that they will dine out the same, more or much more post-pandemic. However, the older age groups, Millennials, Gen Xers and Boomers do not share the same opinion with Gen Zers regarding dining out. In the same survey, 47% of Millennials, 55% of Gen Xers and 52% of Boomers said that they will dine out less or much less. 53% of Millenials, 65% of Gen Xers, and 75% of Boomers only planned to dine out at a restaurant in more than 4 weeks from the survey, believing that they still feel unsafe when being outside. Restaurants will need to remain flexible to provide seat-in and take out or delivery options to address the needs and concerns of all age groups.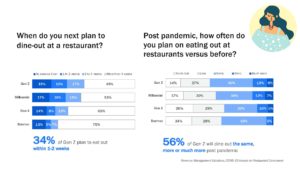 Guests want to dine in a way that makes them comfortable: In the post-pandemic age, people are trying their best to protect themselves when in public spaces. And that's why when it comes to dining out, they want to maintain distance with different parties to avoid the risk of contagion. Many customers expect that standard health and safety requirements, such as reduced party sizes, plastic barriers, or placing tables six feet apart from each other, etc. be in place to keep up with social distancing requirements (2). They are also more likely to pay with contactless methods, such as Tap or Apple/ Google Pay to reduce physical touchpoints. Because of these changes in expectations from customers, restaurants should consider addressing these customer concerns through upgrading their payment infrastructure by employing solutions such as Square POS, Ready, etc., or offer additional training to their staff members to guarantee a safe and smooth dine-out experience for their guests.
Guests will do what they can to keep themselves and companies safe: Many guests believe that dining out at restaurants upon their reopenings will help them feel normal again. However, they will also do what they can in order to minimize health and safety risks for themselves and their friends when in public spaces. According to research by Datassential, Statistical and the James Beard Foundation, 82% of guests don't trust fellow diners to act safely, and 83% would avoid crowded waiting rooms in order to minimize the risk of dining out (3). Many guests want to make a reservation prior to coming to the restaurants, to skip the line and ensure their own safety. They also want to keep their masks on and sanitize their hands when they first arrive at the restaurants but will take them off when they settle down at their tables. Restaurant owners and staff members should respect their guests' approach to protecting themselves and work with them to provide additional safety protocols to guarantee a safe environment inside the dining space.
As post-pandemic customer expectations continue to evolve, it's time for restaurant owners and operators to work hard towards providing a comfortable, yet safe dining out experience. At Five Star Plugins, we look forward to supporting restaurants in their reopenings with our innovative, reliable and fully supported WordPress plugins. Learn more about us and our plugins at https://www.fivestarplugins.com/.
Call to action box goes here