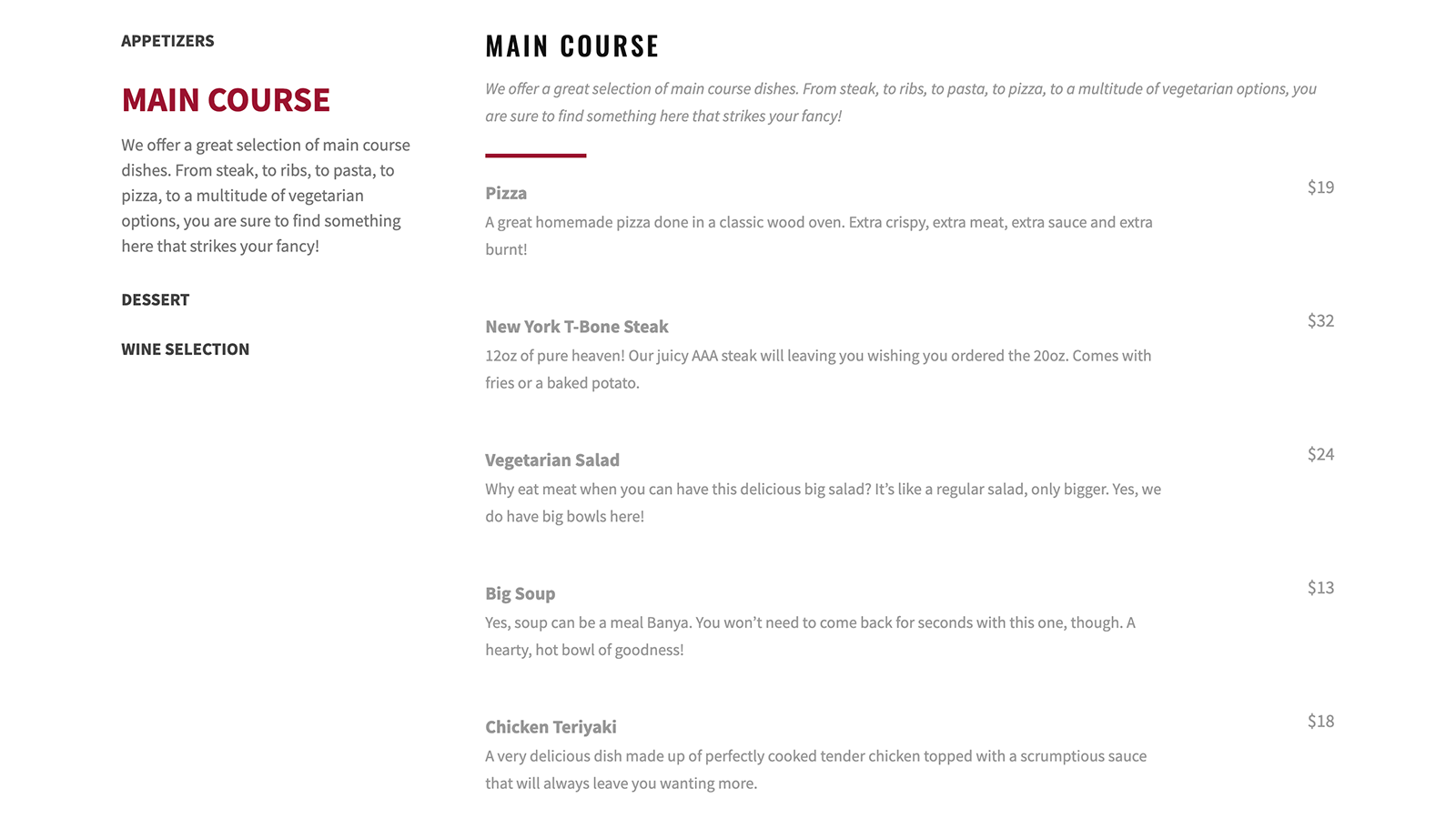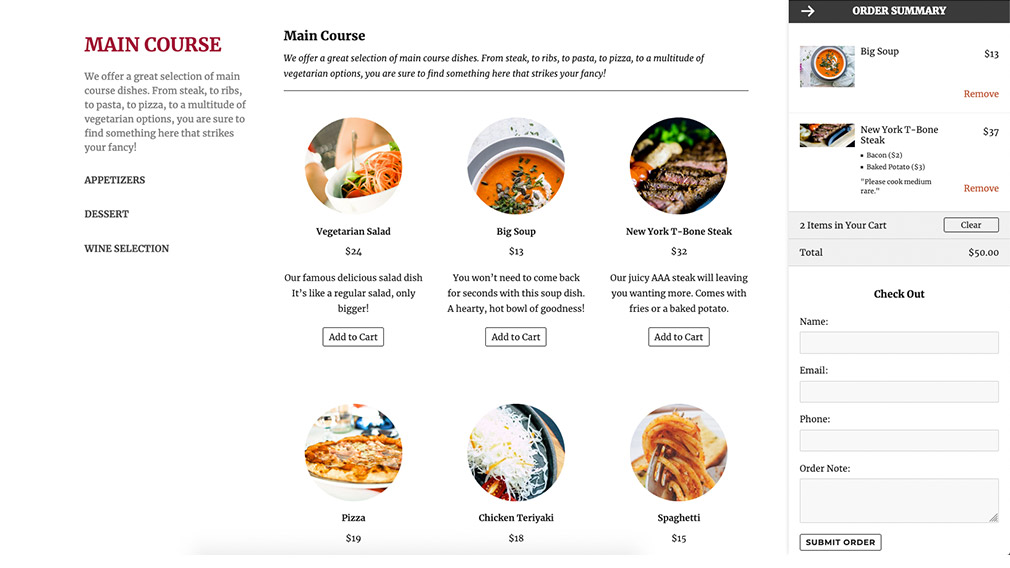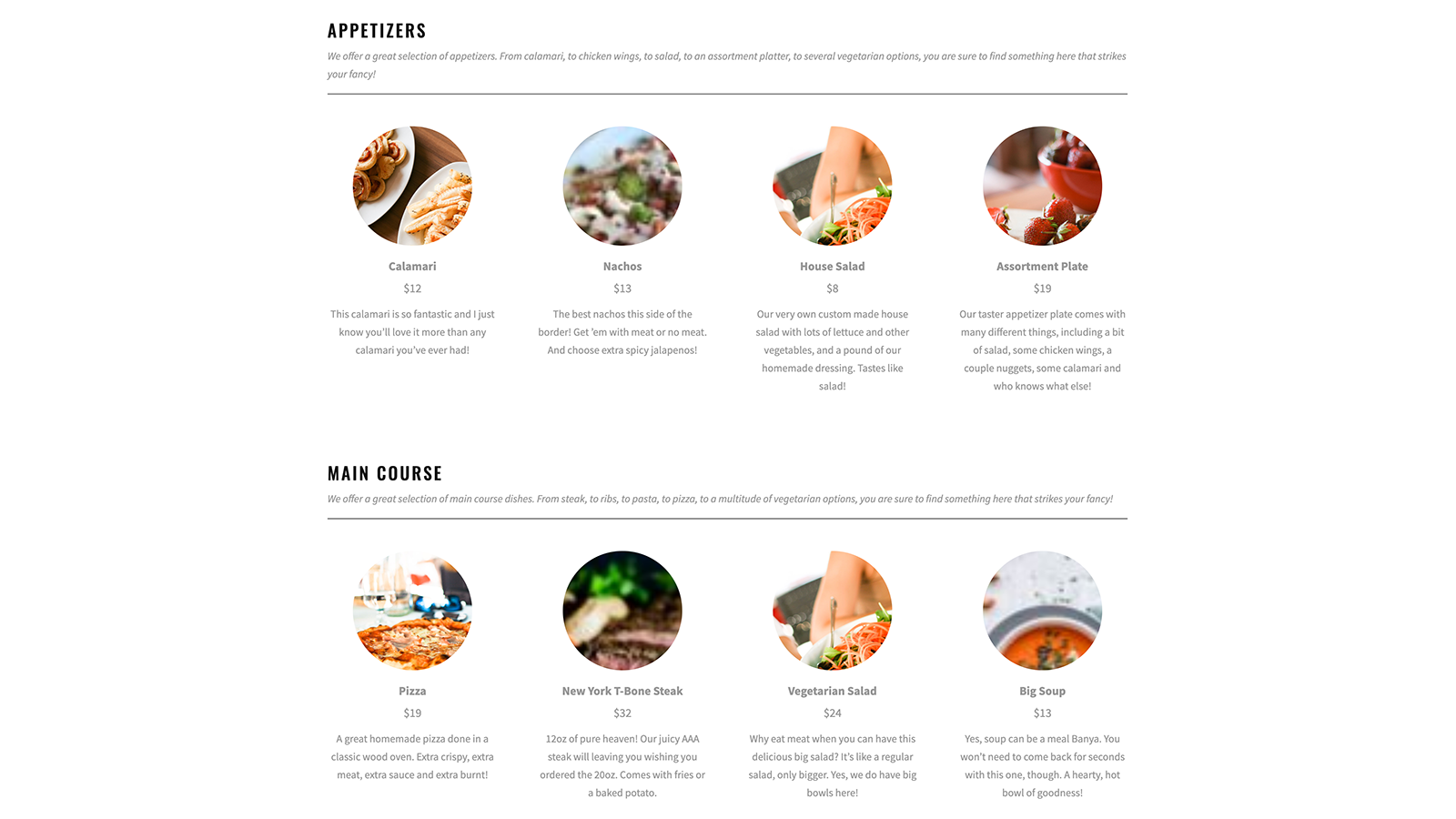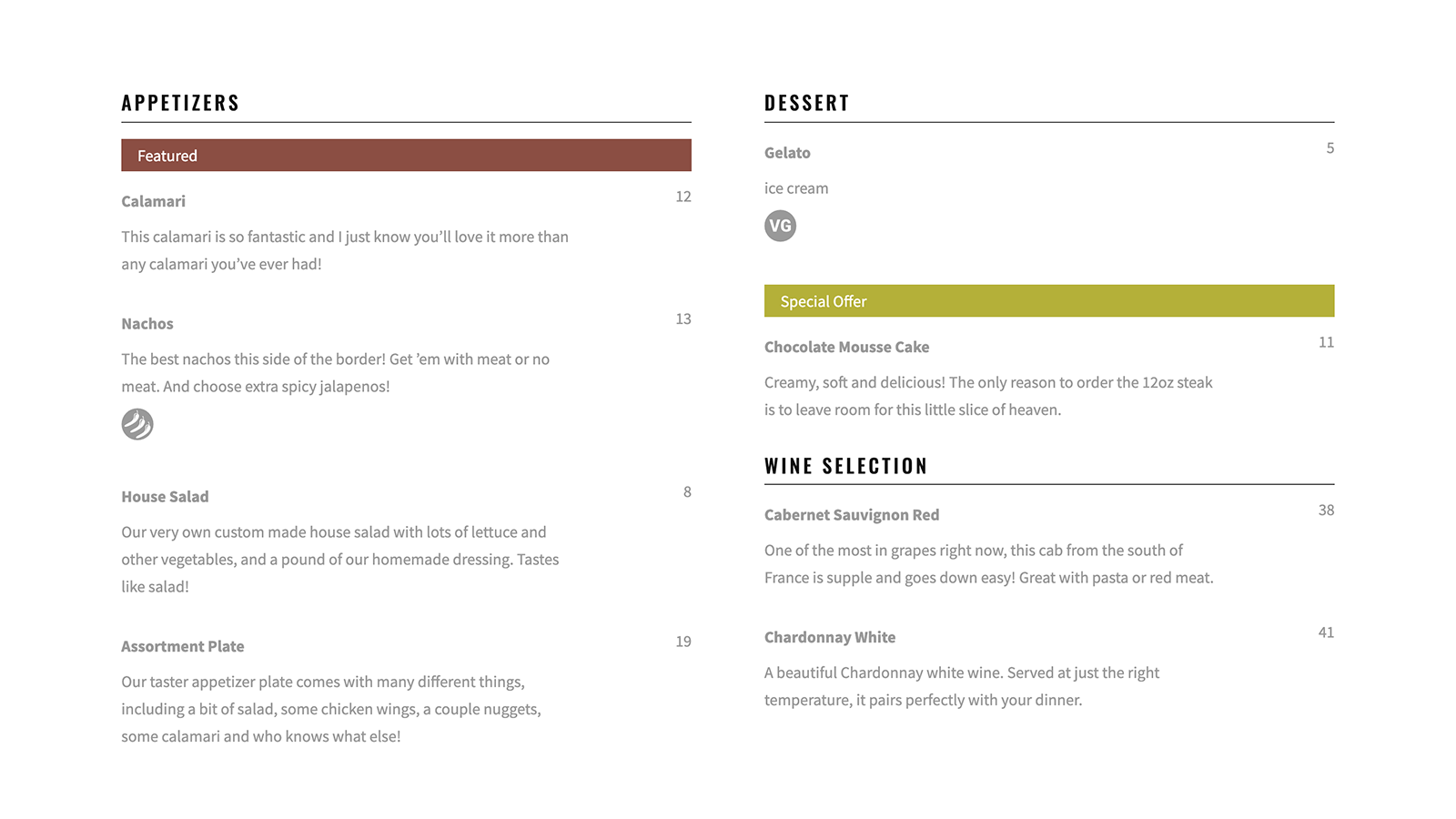 WordPress Restaurant Menu Plugin that's Simple to Set Up & Easy to Customize
Customization
There are many options available in our WordPress Restaurant Menu plugin for customizing the functionality and look of your menu. With multiple styles and layouts, as well as an array of advanced features, you can set up your menu to work how you need. There are also styling options that let you choose the colors, element sizes, text and more. And you can even add your own custom CSS. All of this allows for a seamless integration of the plugin into your theme and site!
Custom Fields
With our advanced custom field functionality, you can add extra details to your menu items. We have even included preset fields for nutritional information.
Dietary Menu Icons
Add unique icons to menu items to show that they conform to specific dietary requirements, such as vegetarian, gluten-free, kosher and many more!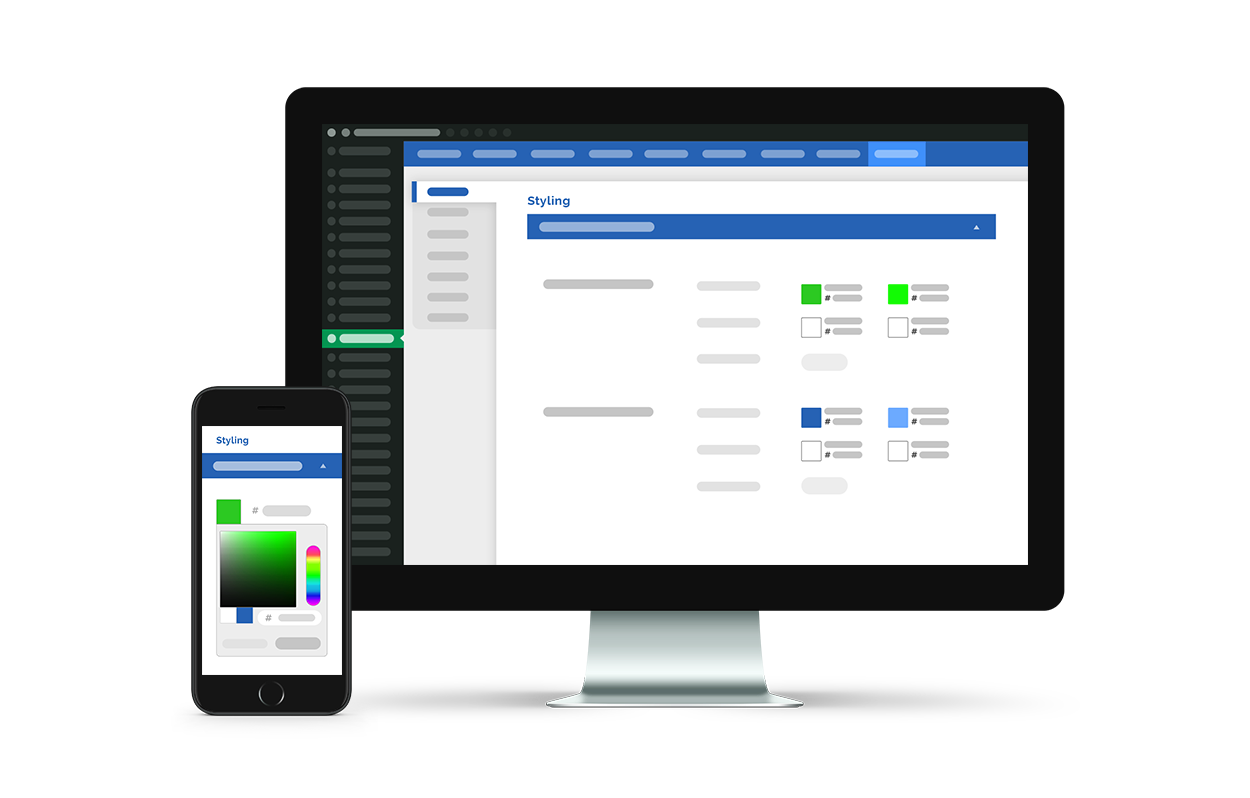 Theme Compatibility
The
Five Star Restaurant Menu
plugin is designed to integrate into any theme. Both the styling and scripting is set up with unique classes, IDs and functions, in such a way that there should be no interfering with other plugins or your theme. We have also hand-tested it with several of the top restaurant themes currently available for WordPress. Click
here
to see a list of these.
Ultimate Version
In addition to the premium version, we also offer Five Star Restaurant Menu Ultimate, which comes with extended functionality to bring your menu experience to the next level. With the Ultimate version, you can offer food ordering directly on your site. Break free from the restrictions and commissions of third-party services and let your customers order food right from the menu page. You can set it up so customers pay right away when they make the order, or later at the time of pickup or delivery. The Ultimate version also comes with the ability to send SMS notifications, so both you and your customers can stay up to date on the status of orders. You also get access to our Five Star Restaurant Manager mobile app (available for iOS and Android), so you can receive push notifications for new orders as well as manage your orders on the go!
| Feature | Premium Version | Ultimate Version |
| --- | --- | --- |
| Advanced Menu Layouts and Styling Options | | |
| Custom Menu Fields | | |
| Sorting & Filtering Options | | |
| Dietary Icons | | |
| Accept Orders Directly from Your Menu Page | | |
| Require Payment for Orders via PayPal or Stripe | | |
| Automatic SMS Updates for Orders | | |
| Access to Five Star Restaurant Manager Mobile App | | |
Select a Plan
Join over 9,000 restaurants, cafes, venues, bistros and bars, and use the top WordPress plugin for adding a restaurant menu and ordering functionality to your site.
Benefits of Going Premium
Advanced Menu Layouts
Custom Menu Fields
Sorting and Filtering
Dietary Icons
Featured Item Flag
Special/Discount Pricing
Related Menu Items
Google Map Integration
Free Lifetime Updates
Advanced Styling Options
Get Premium
Download and activate the
premium helper plugin
and then click the "GET FREE 7-DAY TRIAL" button in the plugin dashboard.