Setting Restrictions for COVID 19 in Your Restaurant Software
Being able to easily place restrictions for COVID 19 via restaurant booking software has never been more important.
Owning and managing a restaurant is already a very time-consuming and difficult occupation. Throw in the current pandemic and it would be hard to blame anyone for feeling overwhelmed. Now imagine you have to spend half your day dealing with a booking system that doesn't work and that causes you to miss out on the little bit of business you might still hope to get…
That's why it's vital to have a system in place on your website that lets your customers quickly and easily make a reservation, and that also lets you easily view and manage all of your bookings. By using the Five Star Restaurant Reservations WordPress plugin, you can do exactly this, with minimal setup time and maximum efficiency.
Setting Maximums and Limits
With the coronavirus still an unfortunate reality, you are more than likely also facing strict restrictions on the number of people you can serve at your restaurant. With the Five Star booking system, you can set a limit on either the total number of people or the total number of separate reservations allowed in your restaurant at one time.
It also lets you set a minimum and maximum party size and choose a dining block length. Using these options in combination with the limit settings lets you just "set it and forget it," taking all the work out of managing this and allowing you to effortlessly conform, via your restaurant software, to the COVID 19 regulations for your city or country.
Table Management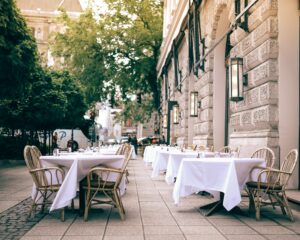 The ultimate version also comes with a separate feature that lets you set up different sections and tables in your restaurant, and gives your customers the ability to choose a table/section when reserving. This is handy if, for example, you are restricted on the amount of people you can have indoors, but not restricted for outdoors (e.g. if you have a patio or terrace). You can shift tables to a different section and make more tables available in the section with the higher limit. This way you can maximize the amount of bookings you can take for each time slot.
Both the settings to limit the number of people as well as those for the table/section configuration automatically update as bookings are made. Also, all of the settings talk to each other. This means the whole thing works in real-time, based on the inputs of the customer on your booking page, to show their desired reservation as either available or unavailable.
Free Restaurant Booking Software
Now is definitely not the time to be worried about whether or not your restaurant booking software is working as you require. You need to be focused on your business and operating as well as you can under the given circumstances. With that in mind, we've updated the free version of our Five Star Restaurant Reservations plugin to give you all the tools necessary to accept bookings and manage them. With the updated free version, you can now:
Create unlimited different schedules (including unlimited exceptions)
Choose your time intervals
Enable multiple locations (via the Five Star Business Profile and Schema WordPress plugin)
Set party size limits
Enable automatic booking confirmation
Allow users to cancel reservations themselves, which will automatically free up that time slot
No limits on the of number of reservations you can accept
While you can, of course, run all of your booking via the free version, we do also have free one-week trials available for both the premium and ultimate upgrades, should you wish to test some of the more advanced features (without purchase or commitment) to see if they would make sense for your setup.
If you have any questions about COVID 19 restaurant software, the capabilities of our plugin, whether it would meet the needs of your restaurant/website, or if you're already making use of it and need a hand, please don't hesitate to contact us via our support center.
Call to action box goes here