Accept Orders Through Your Restaurant Website
Accepting orders through your website is a feature that wasn't very common before 2020, but has since become seen as a necessity for restaurant owners. Managing your own orders through your website is also a much more profitable alternative to restaurant ordering aggregators such as Uber Eats, who can take up to 30% of every order, on top of the service and delivery fees which they charge to your customers.
Using the premium version of our Five Star Restaurant Menu WordPress plugin, you can easily start accepting orders within minutes after setting up your menu. You just need to enable the ordering option in the settings and then make sure to add a price to each of your menu items. There are options to schedule when ordering is available, to pause ordering (either manually or after a certain number of orders have been made but not accepted) and an option for a minimum order amount.
After doing this, when you visit the menu page, you'll see an "Add to Cart" button under each item. The cart window is visible on the right side of the screen and can be minimized and expanded, for easy browsing. Once you've added everything you want to the cart, checkout is done from the same window. And, after checkout, an email with all the order details is sent to both the customer and the admin. These notifications can be customized in the admin area as well.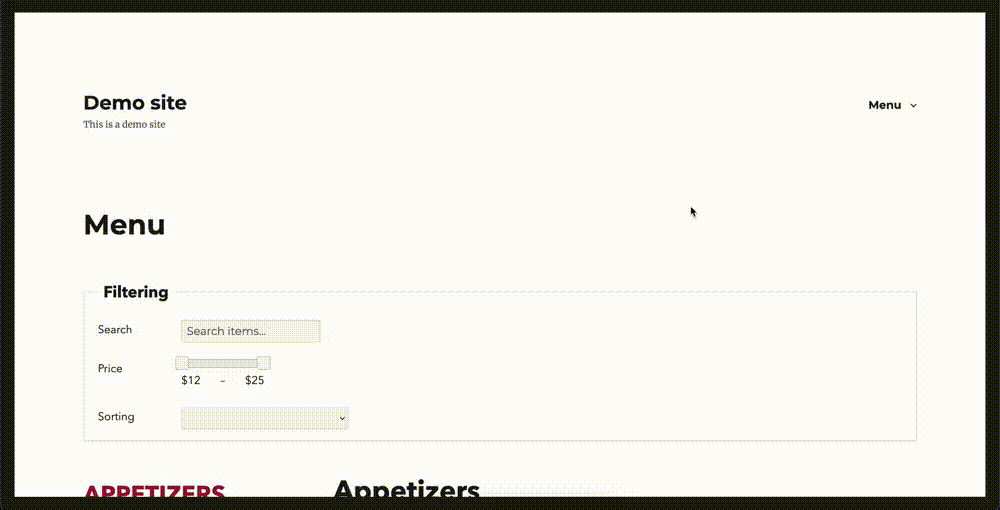 There are also two other important features related to ordering. First, there are the advanced ordering options. There include an order progress display graphic, the ability to include additional prices (ex. "medium" and "large" sizes), and the ability to customize order items (ex. "lettuce", "bacon +$2", etc.). The ordering options for individual menu items can then be set up through that item's edit screen in the admin. You can include free options, such as condiments, as well as upsells like adding chicken to a Caesar salad.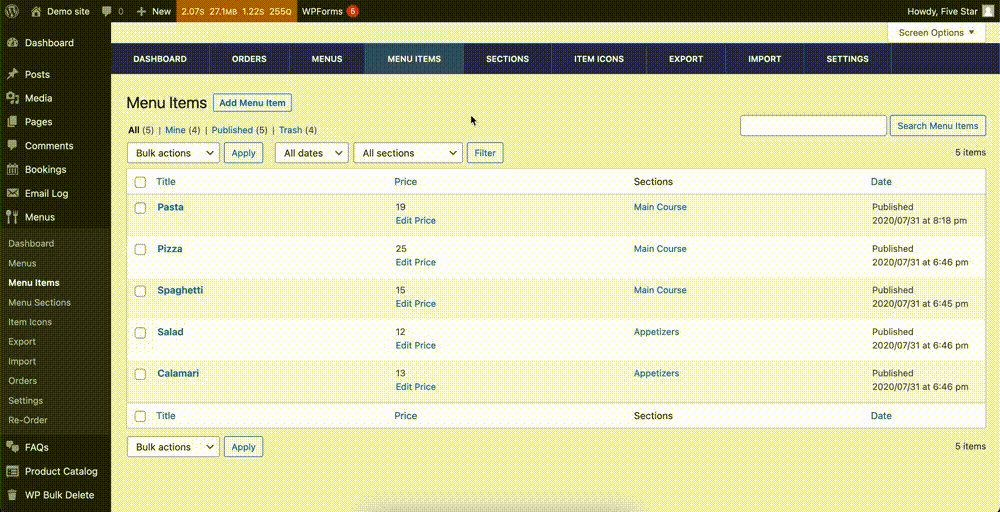 Second, you can accept payments for your orders directly through your site at checkout, so that you don't need to worry about a customer not arriving to collect their order. Scroll down the page to the "Payment" section, select your preferred payment gateway between Stripe and Paypal, and then fill in the necessary account information. Your customers will now have the option of paying for their orders during the checkout process.
By adding direct ordering to your site, you can seamlessly allow your customers to choose their food and have it ready for them to come pick up, or have it ready to deliver if you offer that.
Want to collect additional information with your orders or display extra information with your menu items? Check back for our post next week on Custom Fields!
Call to action box goes here