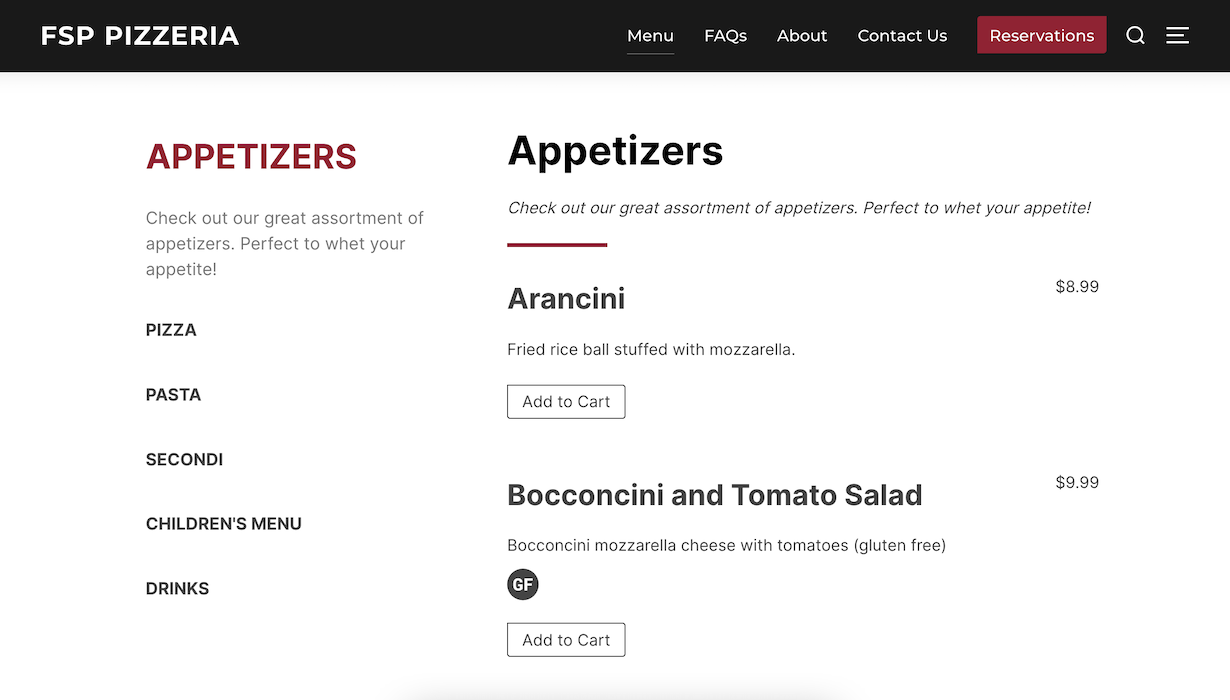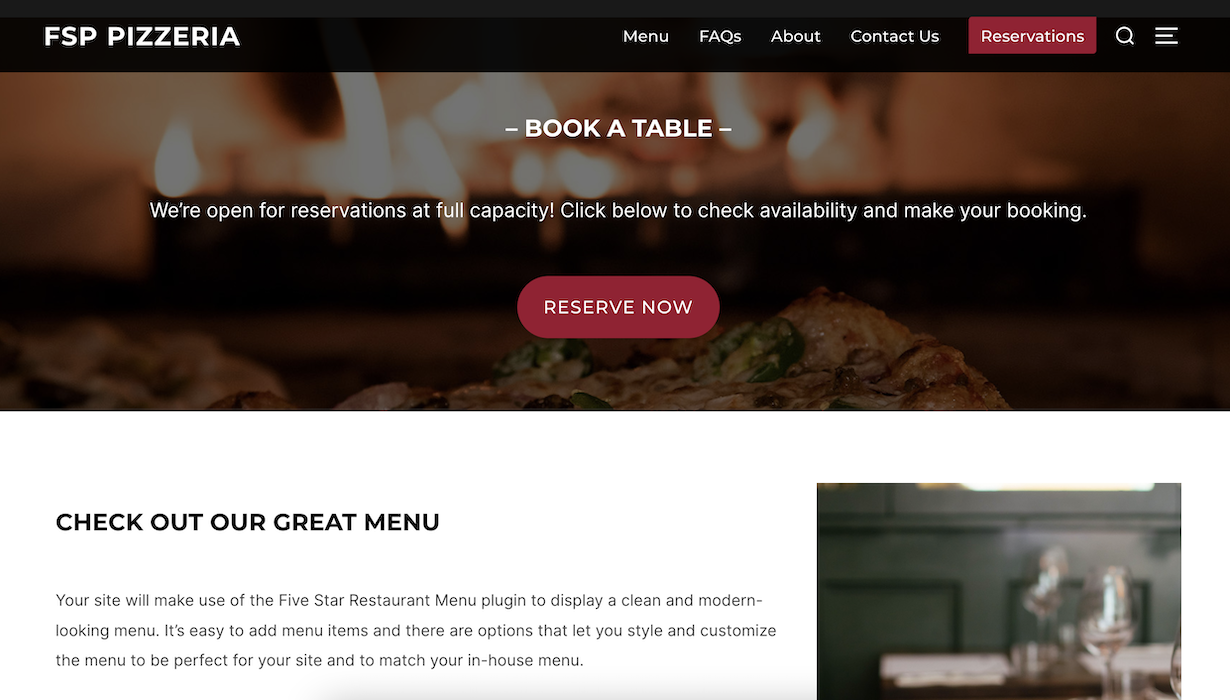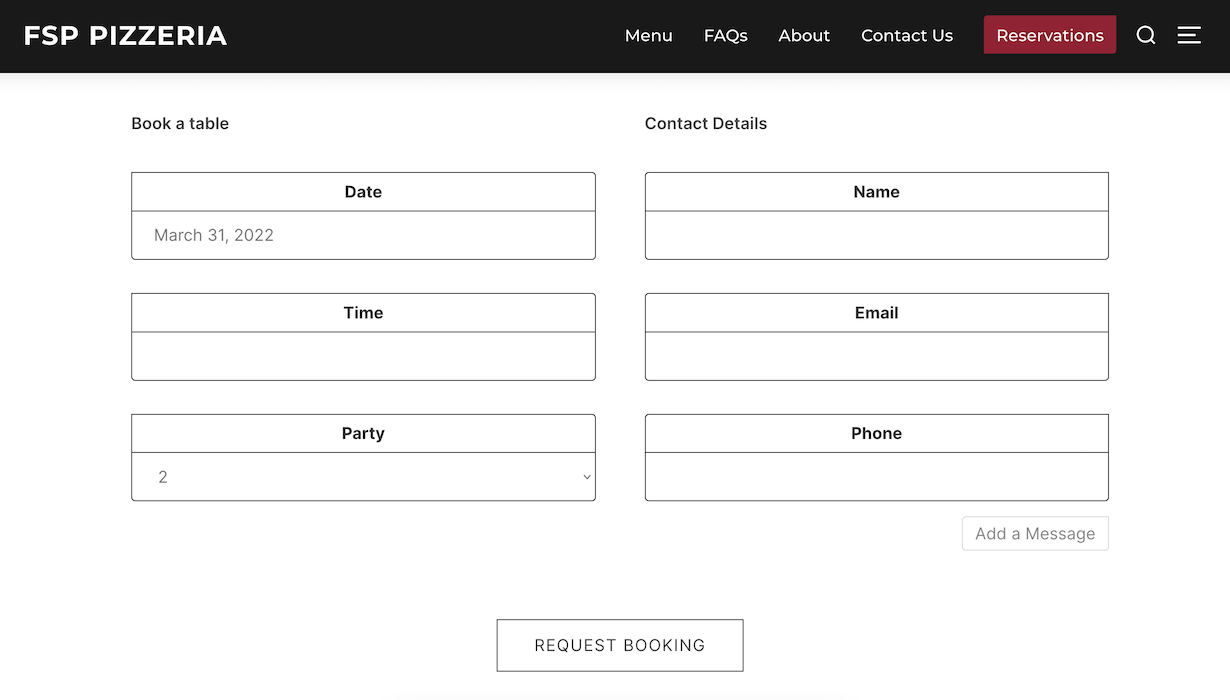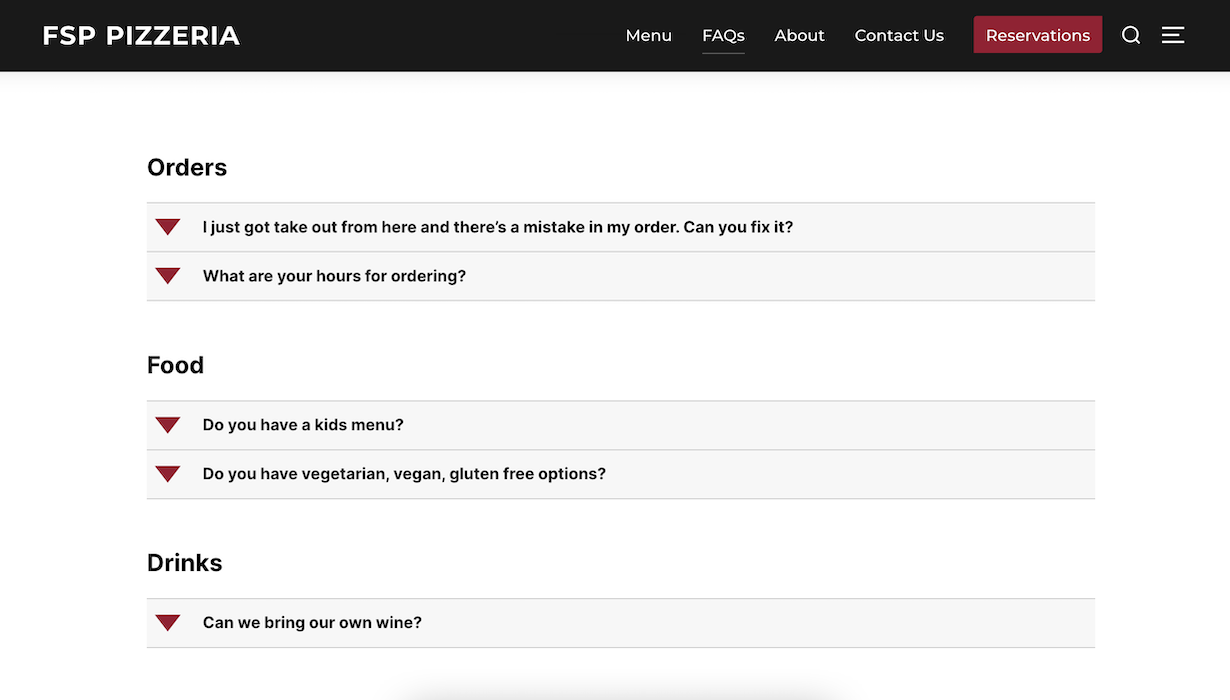 Premium Restaurant Website Design
At Five Star Plugins, we offer restaurant owners a customized WordPress website building experience. Owners choose and pay for only the features they need for their restaurant.
We offer 3 pre-built packages and a custom website option. Each pre-built package comes with:
Choice of theme
Homepage
Menu (created with the Five Star Restaurant Menu plugin)
FAQs (created with the Ultimate FAQs plugin)
Contact Us page
Choose one of the upgraded packages to add some of the following features to your restaurant site:
Reservations (Premium)
Social Integration (Premium)
Food Ordering (Ultimate)
SMS Reminders for Reservations (Ultimate)
Table Selection for Reservations (Ultimate)
If you don't need all the base options, or would like to pick and choose which of the premium or ultimate options you require, you can build your own package using the Custom option.
How it Works
All you need to do after checking out is choose your theme and send in the required materials (logo, color scheme, menu items spreadsheet, etc.) based on your selected features, and your website will be online within 3 business days.
What is Included
All packages include a domain, hosting, unlimited forwarding email addresses, a premium theme and 3 hours of customization work.
Example Sites
The following sitse were built using this service. To have your site included here, you can let us know during the build process.
Select a Package
Select one of the packages below to get started, or use the custom website builder form to match your exact needs.
Basic
Homepage
Menu
FAQs
Contact Us
$1400
Premium
Homepage
Menu
Reservations
FAQs
Social Integration
Contact Us
$2100
Ultimate
Homepage
Menu
Reservations

Reservation Reminders
Table Selection

FAQs
Social Integration
Contact Us
$2800
Frequently Asked Questions
Your website will be hosted by Dreamhost, a large, reliable hosting company who have a 100% uptime guarantee. They host more than 1.5 million websites, offer unlimited bandwidth and data storage, have 24/7/365 customer support and have been in business for more than 25 years.
WordPress is the most popular way to build a website, with around 40% of ALL websites using it (estimated at around 28 million websites). WordPress is an open-source content management system, which can be used or modified by anyone, built to allow those who aren't developers to update their own websites. There are tonnes of free resources on how to update your site using WordPress, along with more than 50 thousand extensions to help add any features you may need later.
We aim to get all sites online with 3 business days of receiving the required materials, so it depends on how quickly you can get those together. You'll see a list of required materials, such as your restaurant menu, reservation preferences, etc., on the checkout page, and will also receive an email with the list. If you've got any questions, you can send us an email to find out more about filling out the required materials.
Refunds can be issued at any point before the site is delivered, minus any expenses already incurred towards getting your site online. Generally, before you send in the required materials, your refund would be more than 95% of the checkout price.
Your website is built using WordPress, an open-source content management with tonnes of websites providing walk-throughs for beginners on how to make updates. We've also got an extensive tutorial video library from YouTube that is searchable via the customer portal on our site.

Finally, if you don't feel comfortable making changes to your site on your own, we have reasonable updating hourly rates that you can contact us about.
Yes, our 'Five-Star Restaurant Manager' app is available for both Android and iOS. The app lets you view, edit and cancel reservations and orders directly from your phone or other device. It can be used on multiple devices, and you can set the privileges for individual devices so that certain individuals are only able to view but not edit or cancel reservations and orders.
The following sites were built using this service. If you would like your site included here, you can let us know during the build process.
Your orders will be managed using our 'Five-Star Restaurant Menu' plugin, used on more than 10 thousand restaurant websites and the most popular restaurant menu plugin for WordPress.
Contact us
If you have any questions about the available packages, the process or anything else related to the premium website service, please let us know. We'll be happy to provide any info you're looking for.