How it Works
Select Features
Pick the exact features you need for your restaurant site, including a booking form, menu and more.
Check Out
Your total is automatically calculated and you can quickly check out in one step. No hidden fees. No wasted time.
Submit Content
You will then have access to our portal, where you can submit your booking schedule, menu, logo, images and page content.
Ready in 72 Hours
We build and set up the site based on your chosen package and provided content. And your site will be online within 72 hours!
Premium Restaurant Website Design
Make your restaurant stand out with a website tailored to your needs.
Our turnkey restaurant website design packages mean you get a sleek, modern and complete restaurant website with no setup or technical knowledge required on your end. You choose the features you need and provide us with your content, and we do everything else!
Don't sacrifice the time you need to be spending running your business to deal with setting up a complicated website or in endless conversations with a high-priced agency.
This is the right solution for you if:
You need a new website for your restaurant now
You want a site that looks like it was made in 2022, not 2002.
You don't have the time to make the site yourself.
You're looking for a hands-off process that doesn't involve any technical decisions or setup on your end.
You would prefer to avoid the very high cost of development agencies.
You don't have time for the endless back and forth with an agency rep discussing every little detail of the site.
Get an agency level website at the cost of doing it yourself
Because our packages are built on the WordPress platform using powerful layout templates and the famous Five Star suite of WordPress restaurant plugins, we're able to do all of the setup for you in a short timeline and at an affordable cost.
If you consider your time as money (which you should, and I'm sure you do), the amount of time saved by using this service to get your new website online will equal to more money saved than the cost of the package.
Stand out with a modern website that looks good on all devices
So many restaurant websites are stuck in the past (yours might even be one). They use outdated, cluttered design. And forget trying to access them on a mobile device. Our restaurant website design solution gives you a website that looks like it was built in and for 2022. With a sleek and minimalist design that utilizes all of the screen real estate and looks perfect no matter what device you're viewing it on, your visitors will have the experience they deserve.
WordPress
Your new site will be built on the WordPress platform, which powers more sites than any other system, including those used specifically for restaurant website design. This gives you several added benefits, including:
You can easily edit your site via drag and drop, and simple text inputs. No coding or technical knowledge required.
You can manage your online reservations directly in your site control panel.
You can update your restaurant menu in a few clicks.
Regular security updates are released, so you don't have to worry about your site becoming vulnerable to threats.
Access to a library of thousands of add-ons (plugins), which let you add almost any feature imaginable to your site.
And, very importantly, if you need to upgrade, move or change your site in the future, you can do so without losing all of your content and having to start from scratch!
NEED HELP?
Let's pick the right solution for your restaurant site.
Let us know what you need and we'll tell you which package is best for you, how much time and money you will save, and just how easily and quickly your new site will be set up.
Select a Package
Select one of the packages below to get started, or use the custom website builder form to match your exact needs.
Lite
Homepage
Menu
FAQs
Contact Us
$47/month
Pro
Homepage
Menu
Reservations
FAQs
Social Integration
Contact Us
$67/month
Recommended Option
Ultimate
Homepage
Menu
Reservations

Reservation Reminders
Table Selection

FAQs
Social Integration
Contact Us
$97/month
Enterprise
Homepage
Menu
Reservations

Reservation Reminders
Table Selection

FAQs
Social Integration
Contact Us
$197/month
Gallery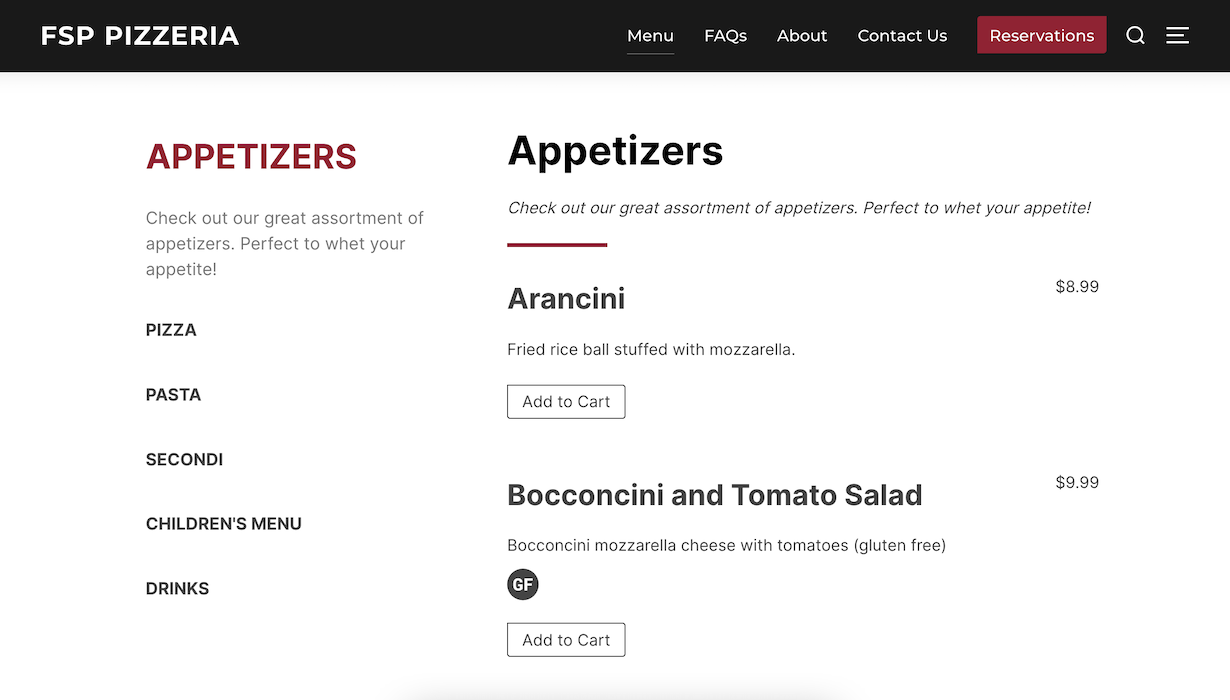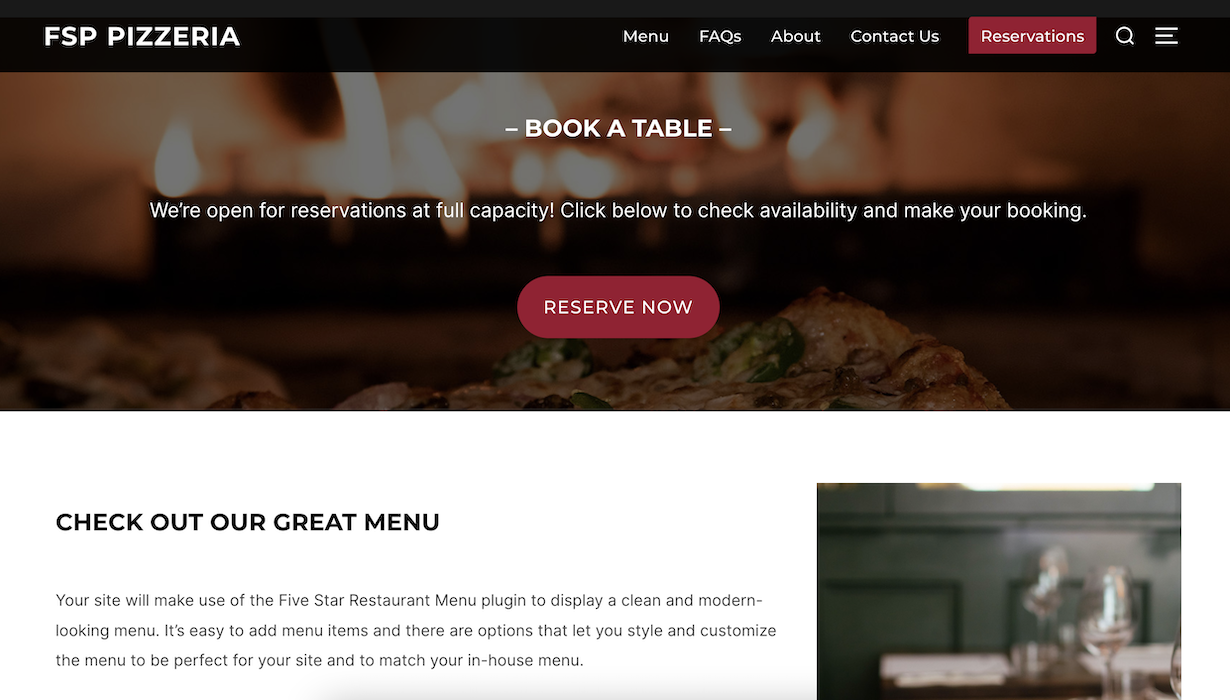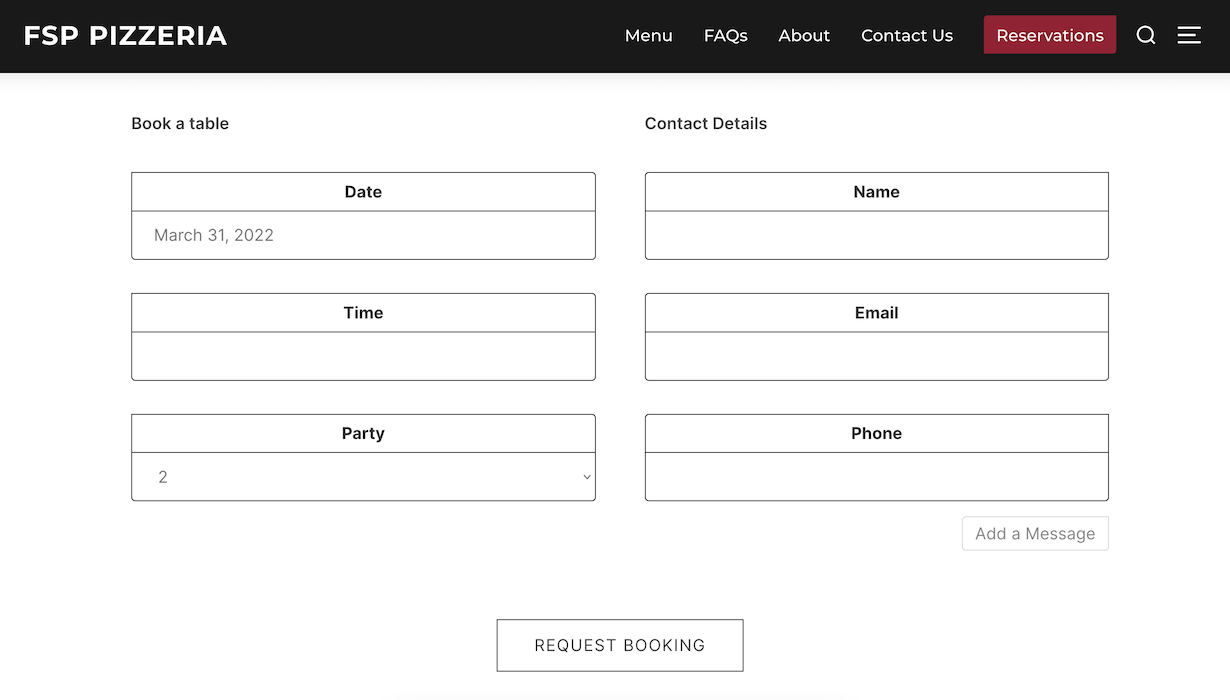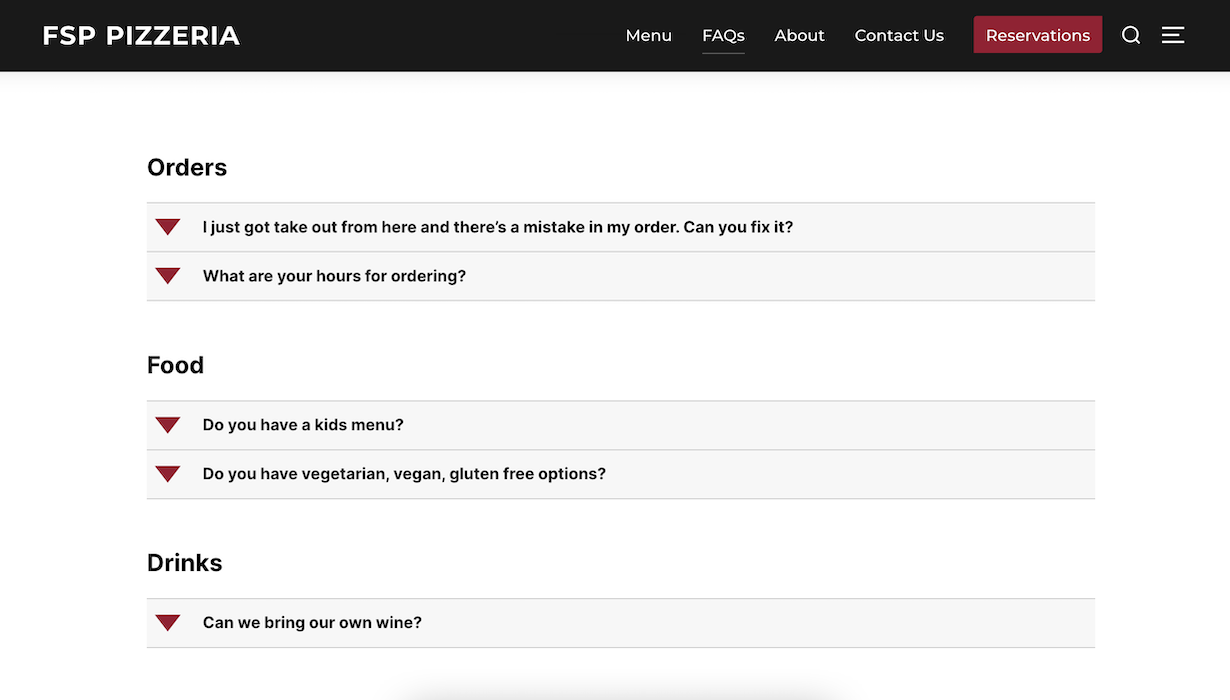 Frequently Asked Questions
Below are some of the most-asked questions we get about our restaruant website design service. They include extra info about hosting, updating your site, the booking and menu features, and more.
Your website will be hosted by Dreamhost, a large, reliable hosting company who have a 100% uptime guarantee. They host more than 1.5 million websites, offer unlimited bandwidth and data storage, have 24/7/365 customer support and have been in business for more than 25 years.
WordPress is the most popular way to build a website, with around 40% of ALL websites using it (estimated at around 28 million websites). WordPress is an open-source content management system, which can be used or modified by anyone, built to allow those who aren't developers to update their own websites. There are tonnes of free resources on how to update your site using WordPress, along with more than 50 thousand extensions to help add any features you may need later.
We aim to get all sites online with 3 business days of receiving the required materials, so it depends on how quickly you can get those together. You'll see a list of required materials, such as your restaurant menu, reservation preferences, etc., on the checkout page, and will also receive an email with the list. If you've got any questions, you can send us an email to find out more about filling out the required materials.
Your website is built using WordPress, an open-source content management with tonnes of websites providing walk-throughs for beginners on how to make updates. We've also got an extensive tutorial video library from YouTube that is searchable via the customer portal on our site.

Finally, if you don't feel comfortable making changes to your site on your own, we have reasonable updating hourly rates that you can contact us about.
Your orders will be managed using our 'Five-Star Restaurant Menu' plugin, used on more than 10 thousand restaurant websites and the most popular restaurant menu plugin for WordPress.
Yes, with the Ultimate and Enterprise plans you have access to our Five Star Restaurant Manager app, which is available for both Android and iOS. The app lets you view, edit and cancel reservations and orders directly from your phone or other device. It can be used on multiple devices, and you can set the privileges for individual devices so that certain individuals are only able to view but not edit or cancel reservations and orders.
You can cancel your plan/subscription at any point. To do so, please contact us at the support email address you received.
The cancellation will come into effect at the end of your current monthly billing cycle.
Pertaining to the status of your site once you cancel, the following conditions will apply:
If you've had your site for less than six months, it will be taken offline and deleted.
If you've had your site for between six months and one year, we will will take it offline and hold it for one year, in the event that you decide to come back.
If you've had your site for longer than a year and you wish to keep the site live, we will assist you in transferring it to the server/host/domain of your choice.
Refunds for the initial monthly payment can be issued at any point before the site is delivered, minus any expenses already incurred towards getting your site online. Generally, before you send in the required materials, your refund would be more than 95% of the checkout price.