How QR Codes Are Changing the Way Customers Interact With Restaurants
As the digital world continues to grow, we're finding new ways to use technology and tools. The world of restaurants has changed quite a bit over the last few years, and it's not slowing down anytime soon. Now, more than ever, there are new and creative ways people are getting information about restaurants. Technology plays a huge role in changing how people interact with restaurants, from apps that let you order directly to QR codes on their websites. Here are just a few ways QR codes are changing the way people interact with restaurants and what you could implement in your own business.
Restaurant QR Menu
The first place we're likely to see QR codes in restaurants is on their menus. You'll find QR codes on both paper and digital menus to make ordering easier for customers. This is an excellent tool for customers who like to order ahead but don't want to use a mobile app. While many people prefer the simplicity of an app, others aren't comfortable with storing payment information or inputting data.
On the other hand, QR Menu could help to improve the customer experience during a rush period since your clients don't have to wait for the physical menu, and your staff will have more time to manage and maintain great customer experience.
Finally, you can go a step forward and use it as a restaurant online ordering system, allowing payments directly from your customers' mobile devices. This allows you to reduce the amount of cash you need to handle and the time it takes to process payments and complete orders. If you are using WordPress to build your site, then you can look at tools like the Food Ordering WordPress plugin, which lets you set this up easily and quickly.
If you do not yet have a website, or are looking to update your current one, we suggest using an all-in-one solution, like the Restaurant Website Design service, via which you get a WordPress site, custom-built to your specifications, and which is set up and live in 72 hours.
Dynamic and Environmental Menu
Your menu may change with time, especially at the beginning, since you need to analyze which dishes most attract your client's attention and, above all, which ones generate the greatest profitability. In addition, with regular use, physical menus wear out, and you will need to constantly invest in printing and laminating new ones, which implies a fixed cost you do not want for your business.
However, QR menus are easy to update without financial investment and also allow you to edit prices and photos as well as add and remove items in your menu that you only have for a particular season.
Finally, you should not overlook the environmental impact. Avoiding printing menus and plastic will not only save you money, but also help you to have a smaller impact on the environment as well as improving brand power by promoting your restaurant as environmentally friendly.
Scanning Food Items to Learn About Them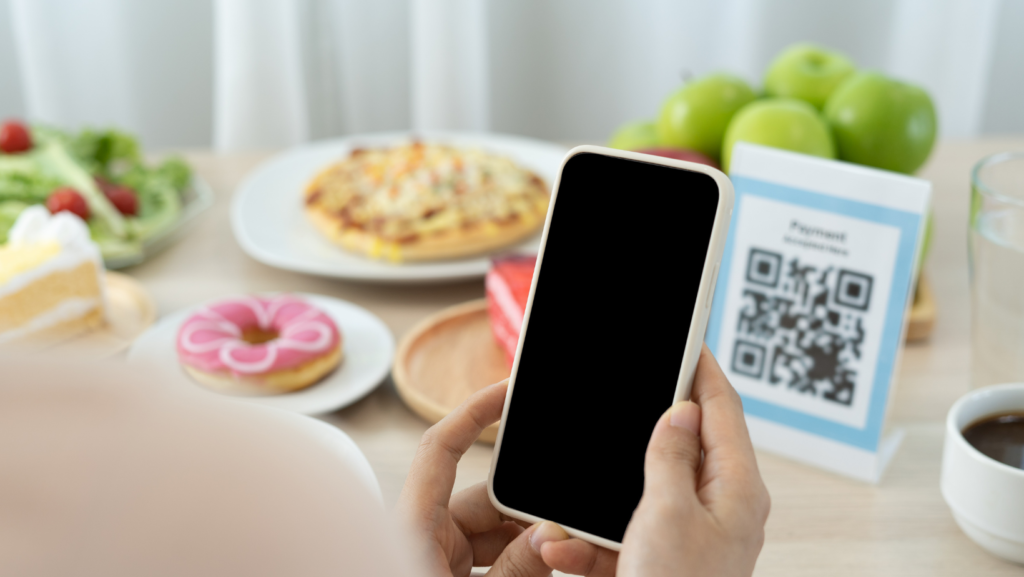 Now, more restaurants are encouraging customers to scan the food they order. This is a great way to let customers know more about their food, by including ingredients, where they come from, nutritional information, your unique technique to cook the dishes and more.
This is a great idea to help guests who may have food allergies or dietary restrictions, as they can quickly learn what is in their food, and also improve your customer experience, which will help to position you as a transparent brand that seeks to share as much information as possible with its consumers.
QR Menu Can Help You to Create Better Analytics
You can create robust data with only one click. Every time your QR code is scanned, your business receives actionable customer data to help you identify sales trends, so you can adjust your offers and menu to improve your customer experience more quickly.
On the other hand, a QR code is a great way to get people's feedback. The simplest way to do this is with a survey inside the bill itself. For example, if you ask customers to rate the service quality, you can include a QR code in the bill that takes them straight to your survey page. Not only will this give you some great feedback regarding service quality, but it will also save you time. Rather than having customers complete multiple forms, they can just scan the quick response code and take the survey right away!
Another way to integrate a QR code into your bill is with an offer. For example, if you want to promote your loyalty program, you could include a QR code with each membership card that takes them directly to your mobile app for sign-up or renewal. This way, members can quickly claim their rewards without remembering to scan their cards or enter their information manually.
Implementing QR code menus and using them for other purposes is a win-win for your business. Do not be afraid to use digital tools to help you attract more customers and improve your sales.
Call to action box goes here